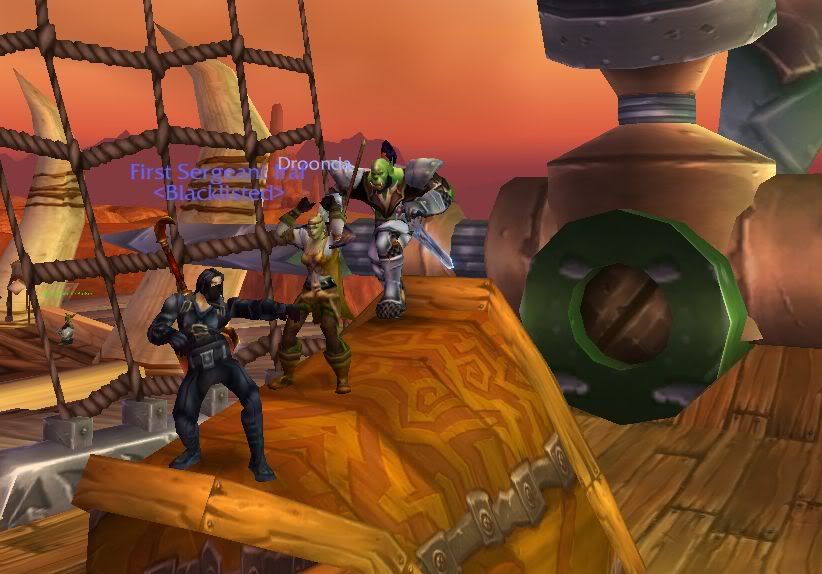 Road Trip!

Really enjoying playing the tank. Msaker, the name, means Carnivore in Armenian. Ashot Msaker was a king of theirs way back. Anyway, looking at it, doesn't it look like
Massacre
? Kewl.
Spent a bit of time in the Arathi Highlands and up in the Alterac Ruins. We're hunting elite Ogres. (When we can kill a Mauler in edgewise between the two level 49 Hunters, One a Troll, one a Night Elf, tiger and boar for pets, named Cat and Boar. They ran circuits, and the were running the identical pattern hours later when we returned. Bots? I'm 100% sure of it.
Then we do a run up into the Hinterlands. After we'd insulted the Witherbark Trolls long enough, collecting their skulls and making a village decoration out of them, (Probably a well known fact: not every troll has a skull. Yeah, mon!) I called a Road Trip. We'd run to Reventusk Village on the coast. Before we entered the village we killed a few turtles. I, level 46, and Droonda, level 39, and our friend Nachmahd, level 48, enjoyed the run.
Later Msaker and Droonda returned to Grom'Gol. The easy way.